(this is my response to Bret Stephens' recently published Wall Street Journal piece To the Class of 2012: Tone down your egos, shape up your minds. He struck me as someone who doesn't read or care about comments on his stories, especially ones from the class of 2012. So instead of leaving one of 800+ comments on that blog, I came to The Post College Life. I'd like to know your thoughts on his blog as well.)
Judging his piece solely by its title, I was initially excited receptive to reading it. But the snark, oh GOD the snark just dripped off my computer screen and made such a mess of everything… He really think he cute, y'all! He really think he doin' something, don't he?! I am so disappointed in this article that not only will my response utilize unnecessary snark as well, but I have also made the decision to forgo subject-verb agreement whenever the hell I see fit. You don't eeeem deserve subject-verb agreement, Bret. U mad?
I would invite you to PLEASE have a seat. Ima even go get the chair for you.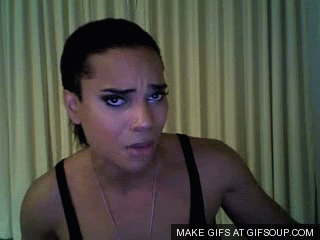 B. Scott's even telling you to sit down!
These types of "dear graduates — you suck" articles are so played (that means unoriginal, Bret), unproductive and often gratifying only to the author, who usually has already established a career. I imagined old white men giving each other high fives in the office as they told the (young? unpaid? college graduated?) intern to go ahead and tweet that shit, boy! Put it on the twitter! How many retwits are they getting? It's called a retwit, right? So I was surprised to see that someone relatively young (Stephens was born in '73) had such a big bone to pick with the chirrens. Even though he directed his sentiments to an entire age group based solely on anecdotal evidence, I have no intention of addressing all people over 40, despite my own title. I just couldn't resist the urge to use that Afro "U Mad" gif. She's fab, right? Stephens' words will be bolded.