(this is my response to Bret Stephens' recently published Wall Street Journal piece To the Class of 2012: Tone down your egos, shape up your minds. He struck me as someone who doesn't read or care about comments on his stories, especially ones from the class of 2012. So instead of leaving one of 800+ comments on that blog, I came to The Post College Life. I'd like to know your thoughts on his blog as well.)
Judging his piece solely by its title, I was initially excited receptive to reading it. But the snark, oh GOD the snark just dripped off my computer screen and made such a mess of everything… He really think he cute, y'all! He really think he doin' something, don't he?! I am so disappointed in this article that not only will my response utilize unnecessary snark as well, but I have also made the decision to forgo subject-verb agreement whenever the hell I see fit. You don't eeeem deserve subject-verb agreement, Bret. U mad?
I would invite you to PLEASE have a seat. Ima even go get the chair for you.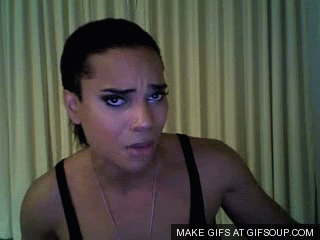 B. Scott's even telling you to sit down!
These types of "dear graduates — you suck" articles are so played (that means unoriginal, Bret), unproductive and often gratifying only to the author, who usually has already established a career. I imagined old white men giving each other high fives in the office as they told the (young? unpaid? college graduated?) intern to go ahead and tweet that shit, boy! Put it on the twitter! How many retwits are they getting? It's called a retwit, right? So I was surprised to see that someone relatively young (Stephens was born in '73) had such a big bone to pick with the chirrens. Even though he directed his sentiments to an entire age group based solely on anecdotal evidence, I have no intention of addressing all people over 40, despite my own title. I just couldn't resist the urge to use that Afro "U Mad" gif. She's fab, right? Stephens' words will be bolded.
Through exertions that—let's be honest—were probably less than heroic, most of you have spent the last few years getting inflated grades in useless subjects in order to obtain a debased degree.
Yes, Bret. Let's be honest. For every "inflated" grade that I received in college, there was a professor who GAVE me that inflated grade. College is a game and I played that shit, son. So to come for my GPA without any mention of the institution/machine that shapes its students is…………basic as fuck irresponsible. You're probably one of those people who thinks all kids get bad grades because they aren't "trying hard enough", huh? I bet. Because you never mention how the education system has a hand in…the quality of education. If I had a blow off class…that means someone TAUGHT a blow off class. It's not that difficult to process. My best professors created classes in which short cuts didn't exist. So I fell into line.
Second, "useless subjects"? Please don't tell me you're also one of those people who thinks womyn's studies are whack. You're one of those aren't you? You a degree snob, playa! You hate the humanities, don't you! There are universities all over this country that are trying to cut African American and Chicano studies because they are "useless" subjects. I went to one of those universities. Fuck you. Some people want to study nutrition. Some people want to study computer science. Some people want to study the ways in which white male privilege manifests itself in the newsroom. Cough Cough. There are many people who think your job is debased. You aint a big man, you just write about them.
A couple of years ago I hired a summer intern from West Point. She came to the office directly from weeks of field exercises in which she kept a bulletproof vest on at all times, even while sleeping. She writes brilliantly and is as self-effacing as she is accomplished. Now she's in Afghanistan fighting the Taliban…Unfortunately, dear graduates, chances are you're nothing like her.
While she is a bad ass, I'm sure, and hardworking no doubt, it's unclear what you're asking me to do with this statement, Stephens. If I don't wear a bulletproof vest to work, I aint real? If I graduate from (your alma mater) University of Chicago instead of West Point, I aint real? I…I have no desire to fight the Taliban, Bret. So why would I? In that regard, no, I am nothing like her. Was that supposed to be an insult?
Oh and shout out to the Afghan civilians that don't get to wear bulletproof vests while they're awake, let alone sleeping.
Fact One is that, in our "knowledge-based" economy, knowledge counts. Yet here you are, probably the least knowledgeable graduating class in history.
Least knowledgeable in WHAT, though? If you know what is necessary to do your job, then you good, right? What you say next in your article tries to prove this valid (though ultimately lost) piece of advice: kids, know your shit. Instead, it's masked by a very different sentiment: kids, if you don't know facts that I directly place value on, you're shit. He's speaking to all of us and our debased degrees, by the way.
A few months ago, I interviewed a young man with an astonishingly high GPA from an Ivy League university and aspirations to write about Middle East politics. We got on the subject of the Suez Crisis of 1956. He was vaguely familiar with it. But he didn't know who was president of the United States in 1956. And he didn't know who succeeded that president. Pop quiz, Class of '12: Do you?
I'll ignore the obvious as you have, and not question how the UNIVERSITY let someone like him get such a high GPA. Wow, he shoulda BEEN known that factoid, as it is directly within his field of study! I can't argue with you there. But what if it wasn't? What if he was a computer programmer who types in languages you never even heard of? What does it matter that he doesn't know who the presidents were? Oh, and it was Eisenhower. Then JFK. I know my white people history. Next question.
In places like Ireland, France, India and Spain, your most talented and ambitious peers are graduating into economies even more depressed than America's. Unlike you, they probably speak several languages. They may also have a degree in a hard science or engineering—skills that transfer easily to the more remunerative jobs in investment banks or global consultancies.
Here, you officially proved that you ARE one of those people who thinks womyn's studies are whack. Because studying the history of an oppressed group of people makes NO money, and you know it. And as someone who is neither a "hard scientist" nor an engineer,  I'm shocked that you feel this way. You are a foreign affairs columnist for WSJ. Politics is a soft science. Economics is a soft science. You're a WRITER for crying out loud. That is an ART! Seems like you glorify that dolla dolla bill, y'all. Not cute.
I know a lot of people like this from my neighborhood in New York City, and it's a good thing they're so well-mannered because otherwise they'd be eating our lunch. But if things continue as they are, they might soon be eating yours.
Shout out to xenophobic fear mongering.

In every generation there's a strong tendency for everyone to think like everyone else. But your generation has an especially bad case, because your mass conformism is masked by the appearance of mass nonconformism.
Are you referring to the hipsters, Bret? Kids who post the V for Vendetta guy as their profile picture? Occupy Wall Street? You don't bother to tell us how our mass conformism is an "especially bad case". I am rolling my eyes. You can't see, but I am rolling them. Don't worry, by the time we're your age, our mass conformism won't be masked as nonconformism, it will be regular conformism. We will fall into line and work for somebody. Climb ladders. Reach for shit that others have. You know, the American dream. I think the only real difference is that your generation's mass(non)conformism wasn't plastered all over the Internet.
Now she's a second lieutenant, leading a life of meaning and honor, figuring out how to Think Different for the sake of a cause that counts.
Your angelic former intern is part of the U.S. Army. Her uniform represents predetermined values she must uphold and a history of actions she must reconcile with. You look at her uniform and beam with pride. There are entire populations of people that look at her uniform and clench their fists in anger. What is this cause that counts? Why does it count? Why do you have such a big crush on ol' girl???
Not many of you will be able to follow in her precise footsteps, nor do you need to do so. But if you can just manage to tone down your egos, shape up your minds, and think unfashionable thoughts, you just might be able to do something worthy with your lives. And even get a job. Good luck!
I can feel my middle finger starting to stick up ever so slightly, Bret. Because, see, I doubt you are sincerely wishing me good luck. Unless I'm a West Point grad fighting the Taliban in the name of Amurrrica, that is. And while yes, I agree that my generation is the most connected yet least well-read generation to date, your blog post comes from a very ugly place. You think you're being tough. OMG like the Real World right? Not the show, but, like, the workforce, right?? Because little do we know, the real world sucks and things of that nature. The points I believe you were trying to make:
1. You actually have to KNOW things to be qualified/educated/successful.
2. You will be facing global competition (that grew up with a wildly different culture of education, but you forgot to mention that).
3. Don't be fake. Come as you are.
4. Think for yourself.
are AMAZING ones. It's a shame I had to look IN THE COMMENTS to find the point of your article. You made me wade through bullshit, privilege, degree snobbery, fake pith, your adoration for Miss West Point — it's a bit much. My father only said one thing about your piece: "who is this kid?"
Oh look — my middle finger. There it go.
-Evelyn